The world is growing exponentially in the use of technology products and their continual replacement is generating mountains of hazardous waste. The UN estimates are of 20-50 million tons of electronic waste produced each year.
These wastes, known as WEEE (Waste from Electrical and Electronic Equipment), are the type of hazardous waste in the fastest growing globally. In Europe, for example, increases from three to five per cent per year. Their danger is due to the presence of toxic and persistent, which represent a risk to the environment and human health in various stages of treatment, recycling and disposal.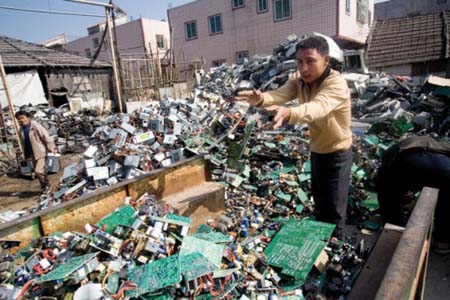 Even today, you lose track of 75% of technological waste products in the European Union. This is a "hidden flow" which in part remains in our homes, basements and garages, or is disposed of in landfill or incinerated. Much of this waste, however, is exported – often illegally – to end up in landfills or recyclers in Africa, uncontrolled illegal in Asia. In places these workers, often children, are exposed to risks associated with the cocktail of chemicals that contain the waste and give off when treated in a rudimentary way, and without protection.
Did you know?
The televisions, which are the products of the industry's most commonly disposed of in China, India and Africa, will be subject to further due to rising exports and the current change in the market towards the use of digital TV.
The world market for video game console is the fastest growing sector in the electronics industry, as well came to 62.7 million units sold in 2006 (representing an increase of 14.9% in a year).
In 2004, 183 million computers and 674 million mobile phones were sold worldwide, respectively 11.6% and 30% more than in 2003.
In 2010 it is estimated that 716 million new computers will be placed on the global market, 178 million of them in China, 80 million in India.
In industrialized countries, the average lifespan of a computer has fallen from 6 years in 1997 to 2 in 2005, while mobile phones have a life span of less than 2 years.